Note to those who wonder what a pimple ball is:
Pimple Balls were used in Philadelphia, Boston, and other Northeastern cities for wallball, handball, boxball, points, wireball, stickball, and Hit the Penny among other games. If they were severly exposed to the elements (down a sewer or over the roof) they usually did not bounce as well so they were cut into halfballs. And if you had the dough, you might even cut up a new pimpleball for a game of halfball.
I haven't seen a pimpleball in about 15 years, but those who remember them can tell you that they were perfect for inner city street games like the ones named above. It was basically a thin rubber ball much like a racketball. It had little dimples, raised stripes and some models had a raised star on the top. If your family comes from Philadelphia, Boston or New York ask your father what a pimpleball is, he will be happy to share the information.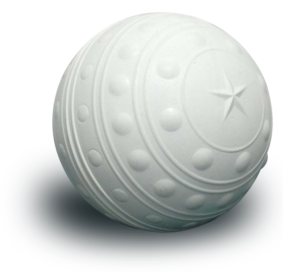 Pimple Balls were distributed by the Eagle Rubber Company of Ashland, Ohio from 1932 through 1982.  About a half of a million pimple balls were produced each year.  Most of which ended up on roofs and in sewers.
UPDATE: In recent years the pimple ball has been recreated. You can buy them online at thepimpleball.com. Although they are look really close to the original, everyone who touches it says it isn't quite the same. It somehow feels different.