Ahh the game of dead box. What good fond memories, a simple game for a simple time…
This game has been played in inner cities for years, at least since the 20's or 30's. My father passed it on to me somewhere along the line and I decided I have to pass it on as well. The basics of dead box is to get your beerie (basically a beer or soda cap) from one base or pocket to the next without landing in the dead box. Variations of the game have been played as well, but thats the beauty of being a kid. Some people can just make new rules. Here we will outline the making of a dead box court, beeries, and the rules of the game. I hope someone out there will make it for their kids and invite me over to play.
Making the Dead Box:
When making a dead box you may have to improvise. Use materials that work for the location and keep other peoples property in mind (not that we did when we were kids). In our case we usually played in the middle of a side street that did not have much traffic. We used white or silver spray paint and used the dead box for a whole summer. Other people used chalk and used the dead box for one day. All that is a non-issue, as long as the dead box gets made. 🙂
First you will start by making a large square or rectangle (your choice), if square, it should be approx 5-6 feet on each side. Next you will need to make a box in the center which is called the dead box. It is traditionally decorated with a skull and crossbones in the middle. Start in one corner and make a box and number it with the number 1. The object in numbering the boxes is to make the player shoot across the dead box and much as possible. So after creating the first box the second should be the exact opposite side or close to it. Look at the drawing to see how your finished dead box should look.
Preparing the Beeries:
Each person had their own tricks to make a good beery or cap. My favorite way was to get an old crayon and a penny. Place the penny in the beer cap and melt your crayon into the cap filling it to the top with melted wax. You can use different color crayons to make designs and swirls. This gave you your own personalized beery. Some people carved their names in the wax afterwards and other put old toy parts in the wax. Whatever your mind could think of was ok with the kids. If you won with a beery it was traditionally thought of as a lucky beery, so you would guard it with your life or barter it for another beery, money or candy.
Play:
Play was started when the person chosen to be first (a shoot-out, age, or threat of an ass kicking can determine who goes first) knelt or laid on the ground at the base or pocket labeled 1. He took his turn trying to shoot the beery by flicking it with his middle finger to the number 2 position. If he made it there he went again and tried for the next number, if he did not make it, the beery stayed put and the next player went. If you land in the dead box at any time you pick your beery up and start from 1 again. This went on until someone made it to the last base or number, then from there hit it into the dead box in the center. It was also legal to knock someone elses beery out of the box, causing them to pick their piece and pride up and go to the beginning to start all over.
Here is a picture to help you in making your dead box. Remember the beauty of these street games was that it can be changed on a whim. Dont be afraid to change it to your liking.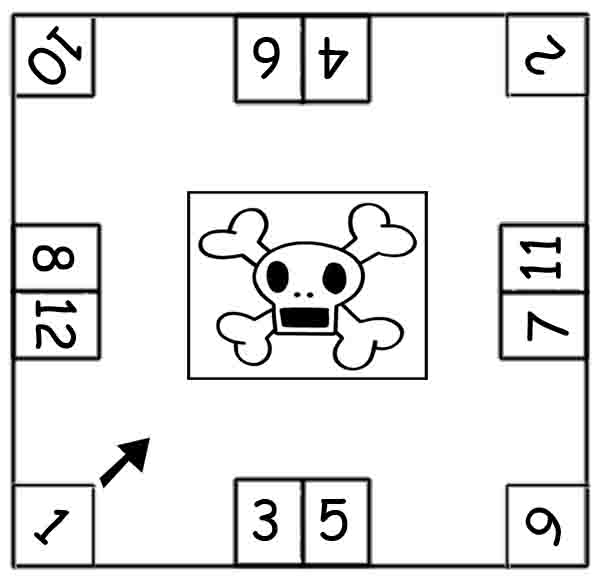 About five years or so ago (I was 27) me and one of my cousins (Scott Ladooooo) decided to make a dead box and show the neighborhood kids the game. They loved it, I was surprised at how they took to it. If nothing else came out of it at least we had a blast for a day. Here is a picture of one of the neighborhood kids playing dead box that day.